The Lexington Public Library's beautiful new Eastside branch (located at 3000 Blake James Drive) is hosting a party in honor of my new novel, The Thing About Leftovers, on Thursday,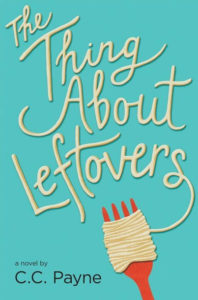 October 20, from 6-8PM!
The winners of a leftovers-themed recipe contest will be announced! (Recipes with photos must be submitted BEFORE Oct. 12! More details here: http://www.lexpublib.org/leftovers )
Students from Fayette County Public Schools will be competing in the final round of an Edible Book Contest! (What could be better than BOOKS you can EAT?!)
Barnes & Noble will be there selling my books! (Unfortunately, you can't eat them.)
I'll be reading from The Thing About Leftovers, speaking, signing books, taking photos and giving hugs!
And most importantly, there will be SNACKS!
Can you come? Please? I'd be ever so grateful!
Because here's The Thing About Parties:
Someone, or many someones, have gone to a lot of trouble to put them together—they've planned, sent invitations, decorated, and made snacks—and in this case, it's the library people! I LOVE library people! So I don't want to disappoint them!
But the fact remains that my work is solitary and requires long hours, so I'm not out in the world meeting lots of people and making friends. On the rare occasions when I AM out in the world, I tend to be more of a listener. I'm just naturally more interested in what someone else has to say (because I already know the stuff I already know).
When there's no one for me to listen to at a party . . . I'm SUPER awkward—which is a lot more awkward than usual! In fact, I've been known to drag chairs into the ladies' restroom, where I sit and read the book in my purse until my ride is ready to leave the party.
But hiding in the restroom, even for reading purposes, would probably be frowned upon at the library party! Right? Yeah, probably.  So please, come talk to me! I'm not asking for me! I'm asking for the library people! Mostly.
P.S.  What people are saying about The Thing About Leftovers:
San Francisco Book Review says, "Payne has written a perfect story for middle-graders. …The voice of Fizzy in this first-person narrative is pitch perfect. This may capture the experience of children of divorce better than any book out there and deserves readership beyond a middle-grade audience. A winner!"
Huffington Post says, "features a diverse cast and a large support system [who help] a young girl navigating being a part of two blended families."
Parade magazine features the book in a "Feet in Sand, Book in Hand: 13 Summer Reads That Are Must-Haves for the Beach" round-up! It is also the only children's book included in the round-up.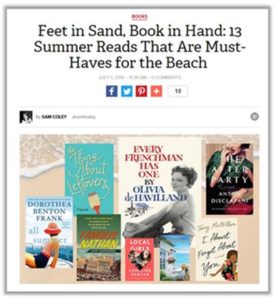 Common Sense Media says, "The Thing About Leftovers is an important addition to the canon of books having to do with divorce and loss. It gives kids in more traditional environments a heroine to look up to. And Fizzy is sweet enough, lovable enough, and tough enough to be that heroine."
"There are precious few books in the world that feel blindingly, achingly, beautifully, real. This is one of them."—Compass Book Ratings
"This story made me laugh, cry, and think. The writing was captivating and I felt like I was part of Fizzy's world and going through her struggles right there with her. I can't wait to read more from this author!"—YA Lit Rumblings
"A fun read about a serious topic. … Children of blended families will relate to Fizzy's thoughts and emotions. A thought-provoking read for parents and children."—2 Heads Together
"C.C. Payne's The Thing About Leftovers is a poignant, sweet, and equally heartwarming and heartbreaking middle-grade contemporary. …Fizzy's story is bursting with so many palpable emotions, and Payne weaves a complex story that has depth, heart, and charm."—Aeicha, GoodReads User
"Author C. C. Payne nailed it. She wove gut-wrenching heartache with humor and created a narrative voice so authentic, I feel as if I could picture a conversation with Fizzy and predict the next year of her life. Fizzy truly jumped off the page and came to life."—Ginger, GoodReads User
"I believe [The Thing About Leftovers] does the best job of any book I've seen at capturing what [divorce] must feel like for the kid and for the parents. The voice is absolutely perfect and it's a book I will recommend for a very long time."—T.J. Shay, GoodReads User
Hope to see you at the library! xx